Site conditions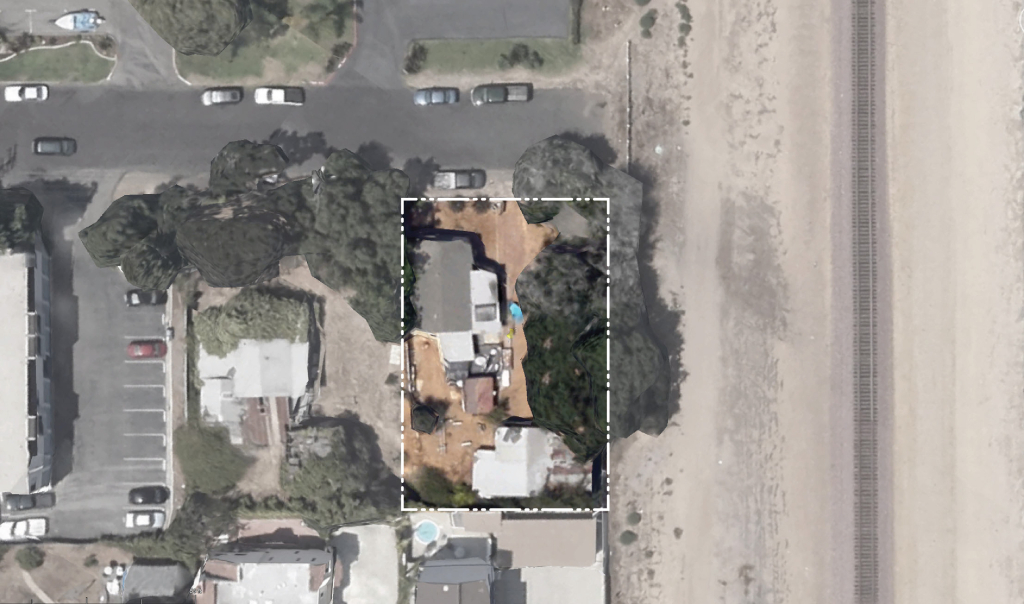 As you can see from the this aerial photo, our site is located right next to the train tacks. What you can't see from this photo is that the Pacific Ocean is located three blocks to the west. Yes, the train is loud when it goes by, but the site is remarkably quiet the other 99% of the time. Did I mention the beach is three blocks over?
Site Layout
Perhaps the best way to describe the site layout is to describe the way in which the building is approached via two primary modes of transport: walking and by motor vehicle.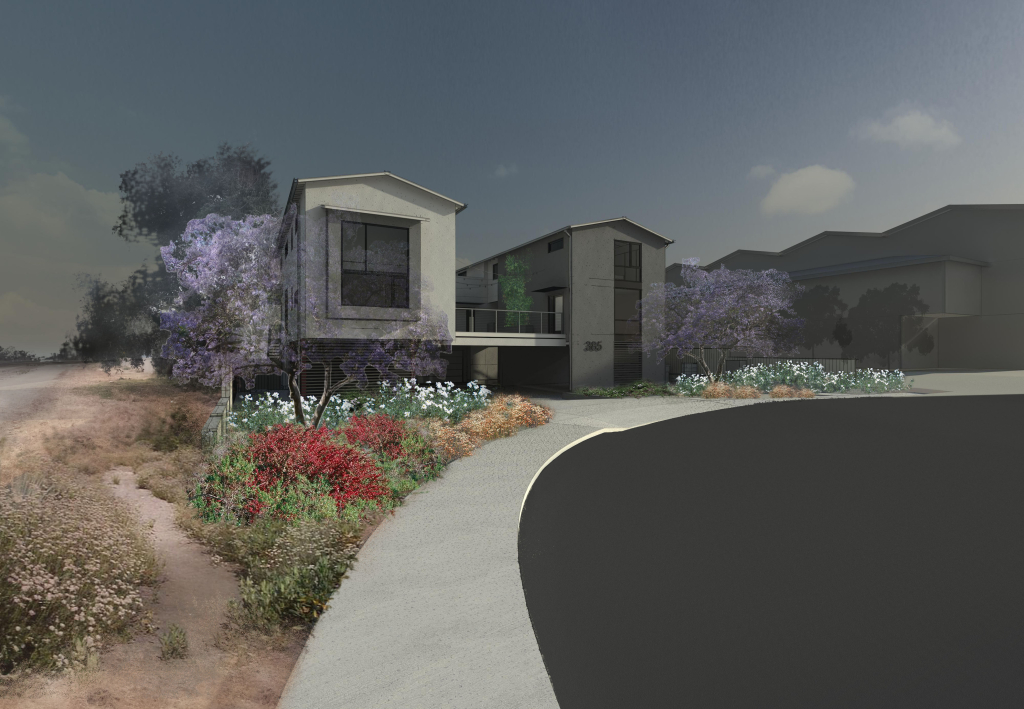 If arriving by car one turns off the cul-de-sac onto a driveway which is generally centered on the property and proceeds below the deck level of the building to surface parking on the right and left. From there a single flight of steps ascends to the deck level where the main entrances for all four units are located.
If arriving on foot a concrete walk runs down the western property linking the public sidewalk to the same stairs accessed from the parking garage. Given the proximity to the beach we anticipate installing an outdoor shower at the base of these steps to accommodate a post-surf rinse on the way in.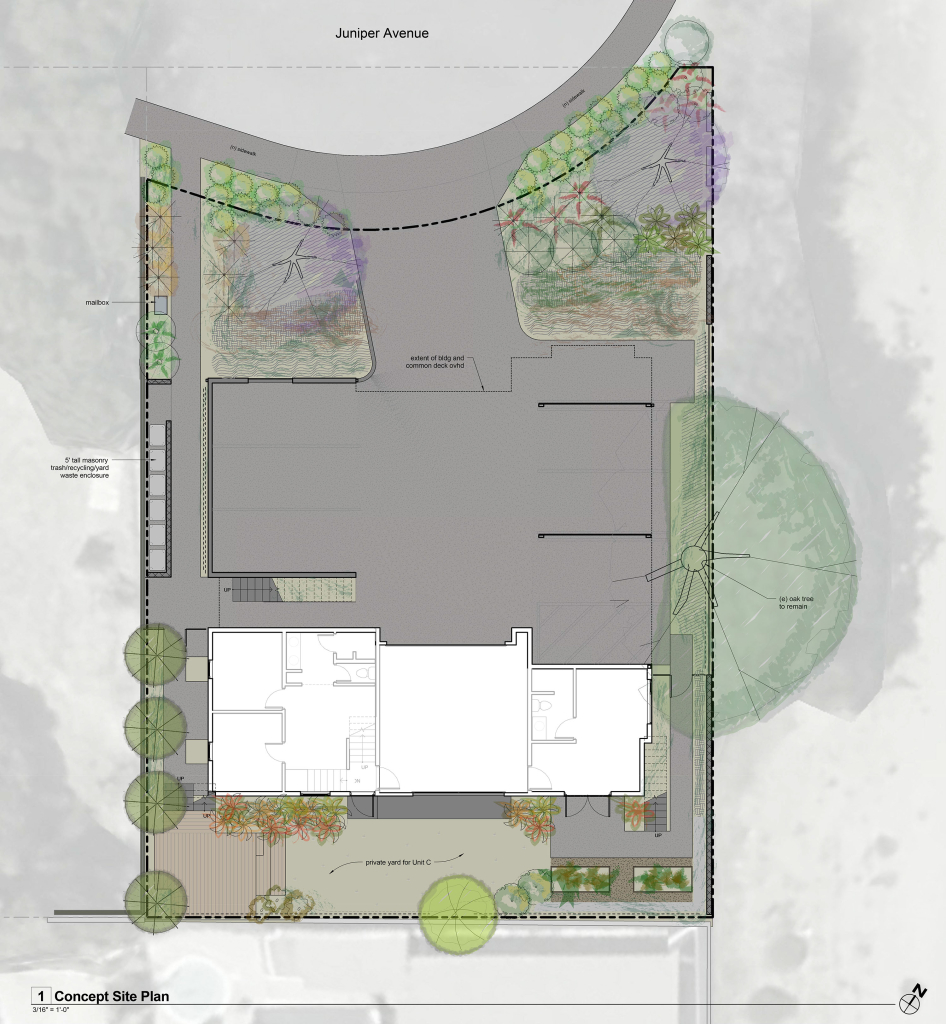 Larger landscape areas are located at the front and rear of the site. Narrower landscape buffers provide screening along the side of the building. In light of the "drought" (we live in a frigin' desert!) our landscape palette will consist of two categories of plants: 1) natives which require little to no irrigation yet attract butterflies and 2) gardens/vine/trees which produce fruit, veggies or herbs. The exception to these two categories is a small area of turf grass in our backyard. We're still debating the pros and cons of artificial turf.
Floor plans – unit breakdown
The 4-plex is, as the name suggests, made up of 4 individual apartments. In addition to our home (unit C) we have a 1, 2 and 3-bedroom unit. The deck level of each unit is an open plan kitchen-dining-living room. The upper level, which is generally stacked directly above the deck level, contains the bedrooms and bathrooms. The layout of our home is completely different. The kid's bedrooms are buried in a half basement, the master suite is way up top and the common living spaces are in split-level configuration in an attempt to graciously connect the elevation difference between the common deck and the rear yard.
And because who doesn't like a good night time rendering….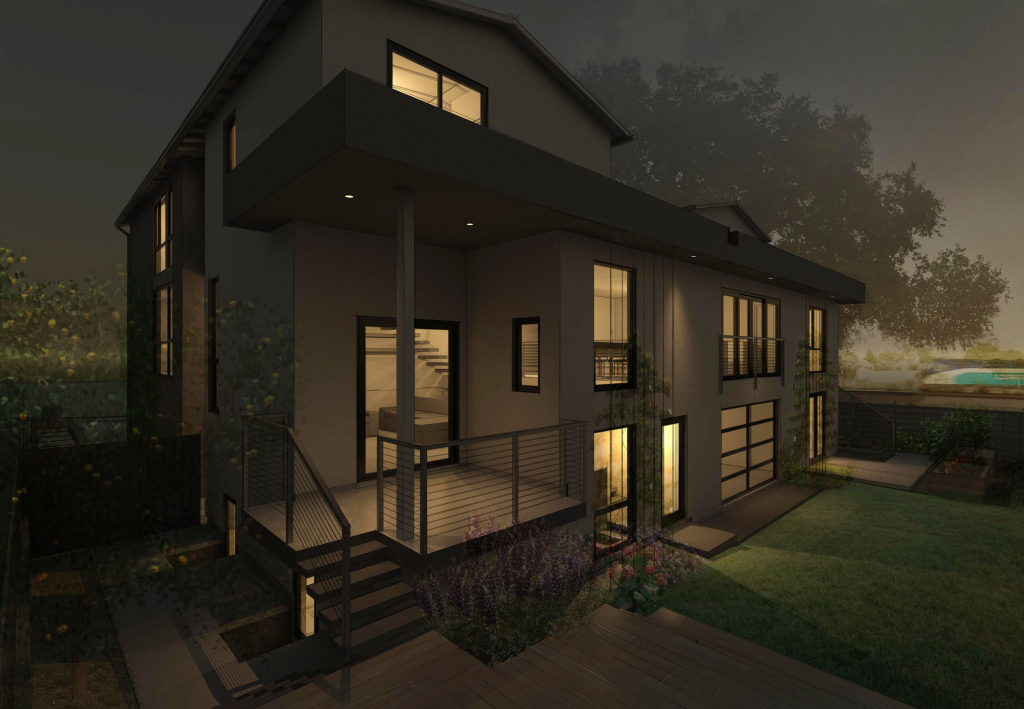 So that's the plan. Seems like a good one to us. Follow our progress on the construction blog and see how it all turns out.
Think you might want to live in one of these beauties?  Submit your info to the interest list here.