OK, so I'm behind on the posts and, truth is, we're behind on the overall construction schedule. There has been a lot of work over the last couple months but it has taken longer than it could have which certainly means longer than I would like. Nevertheless, we're getting closer to drywall and there's much to get up to speed on.
Windows and Patio Sliders
Our windows and sliding patio doors are all from Milgard's aluminum line. I've used this product on a number of other projects and love it for the following reasons:
1. Aesthetics
Narrow site lines are typically a priority in modern architecture and our project is no different. The narrow frame profile of these windows allows for more glass which translates to more light, wider views and, in the case of operable windows, larger amounts of fresh air. Notably absent in the profile is any embellishment meant to mimic traditional wood construction. The corners are clean and square, nothing more than they need to be.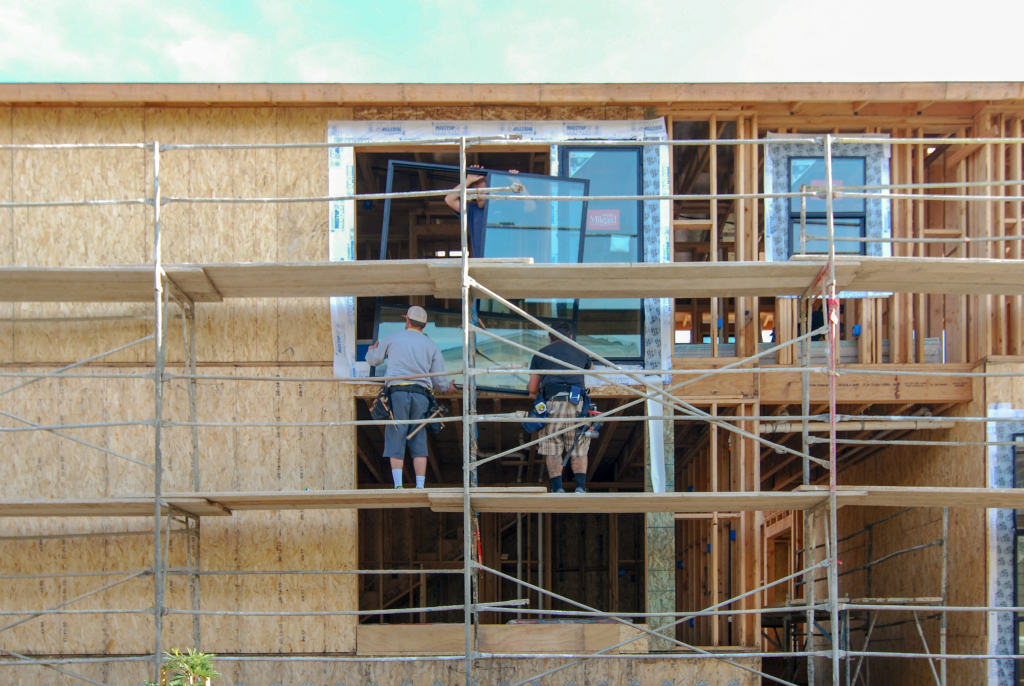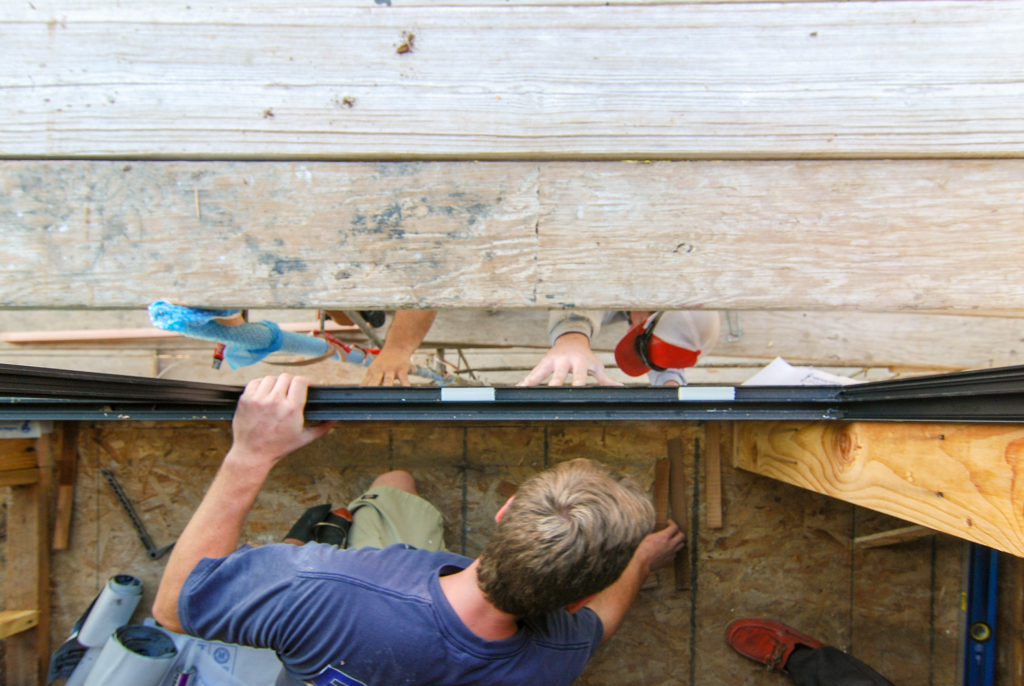 2. Durability
We will never need to refinish the interior or exterior of these frames. Ever. There are a few other materials out there that provide a similar no-maintenance approach, but the anodized aluminum finish is tough to beat. Over time some minor surface pitting will likely occur due to the coastal exposure, but the structural inegrity of the frame will not be compromised in the least. Wood windows can't come close to this sort of performance. Fiberglass is a good wood-look alternate with far better durability. Vinyl, despite excellent durability, is a non-starter due to its thick white frames (see reason #1).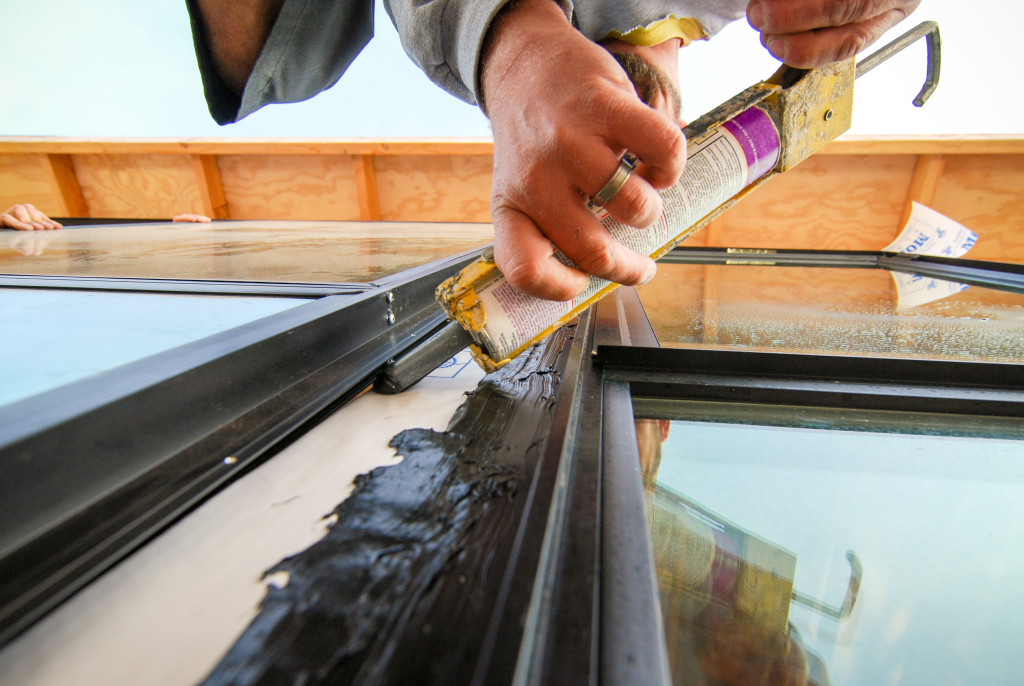 3. Cost (effectiveness)
I don't like to use the word "cheap" as a positive adjective in building products, but given points 1 and 2, this product is certainly a great deal. The package for the entire building, which includes some fairly substantial areas of glass, came in at just under $20k. If budget allows, manufacturers such as Western Window Systems and Fleetwood are great options and produce what is certainly a superior product in many respects, but given our budget goals Milgard was clearly the best option.
And yes, it does now occur to me that "clearly the best" is Milgard's tag line.  No, I did not think about this when writing the previous sentence. Their marketing efforts must be working…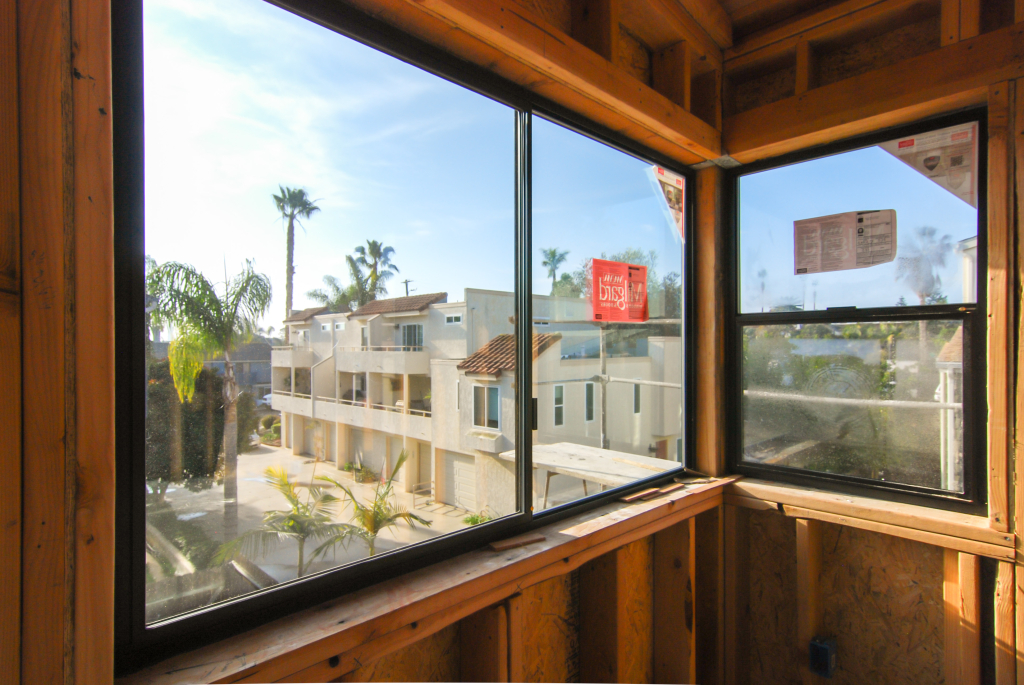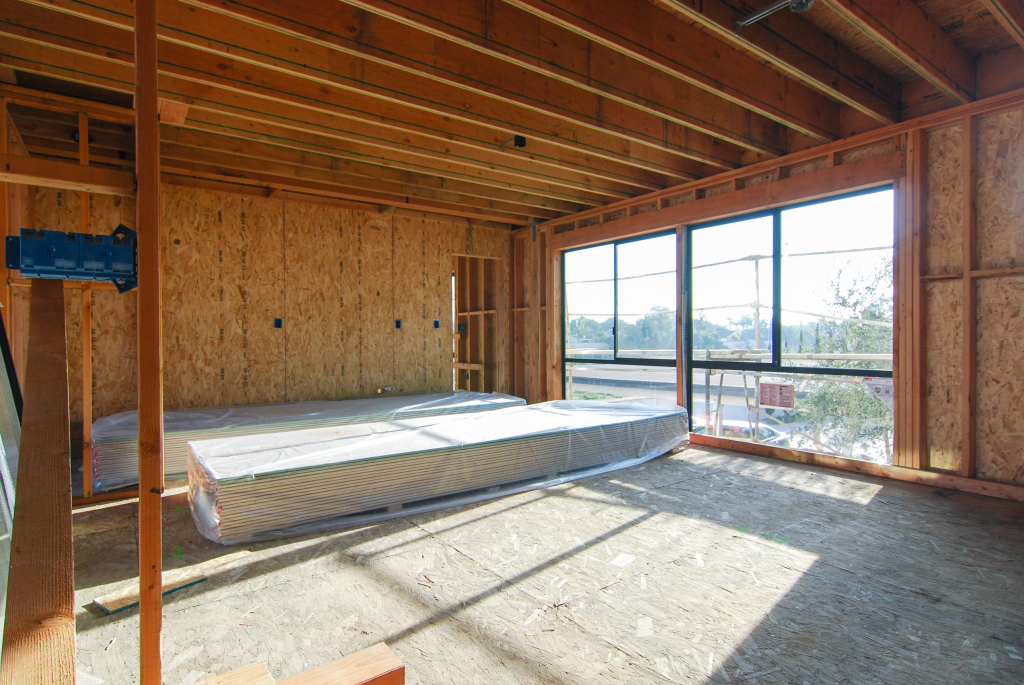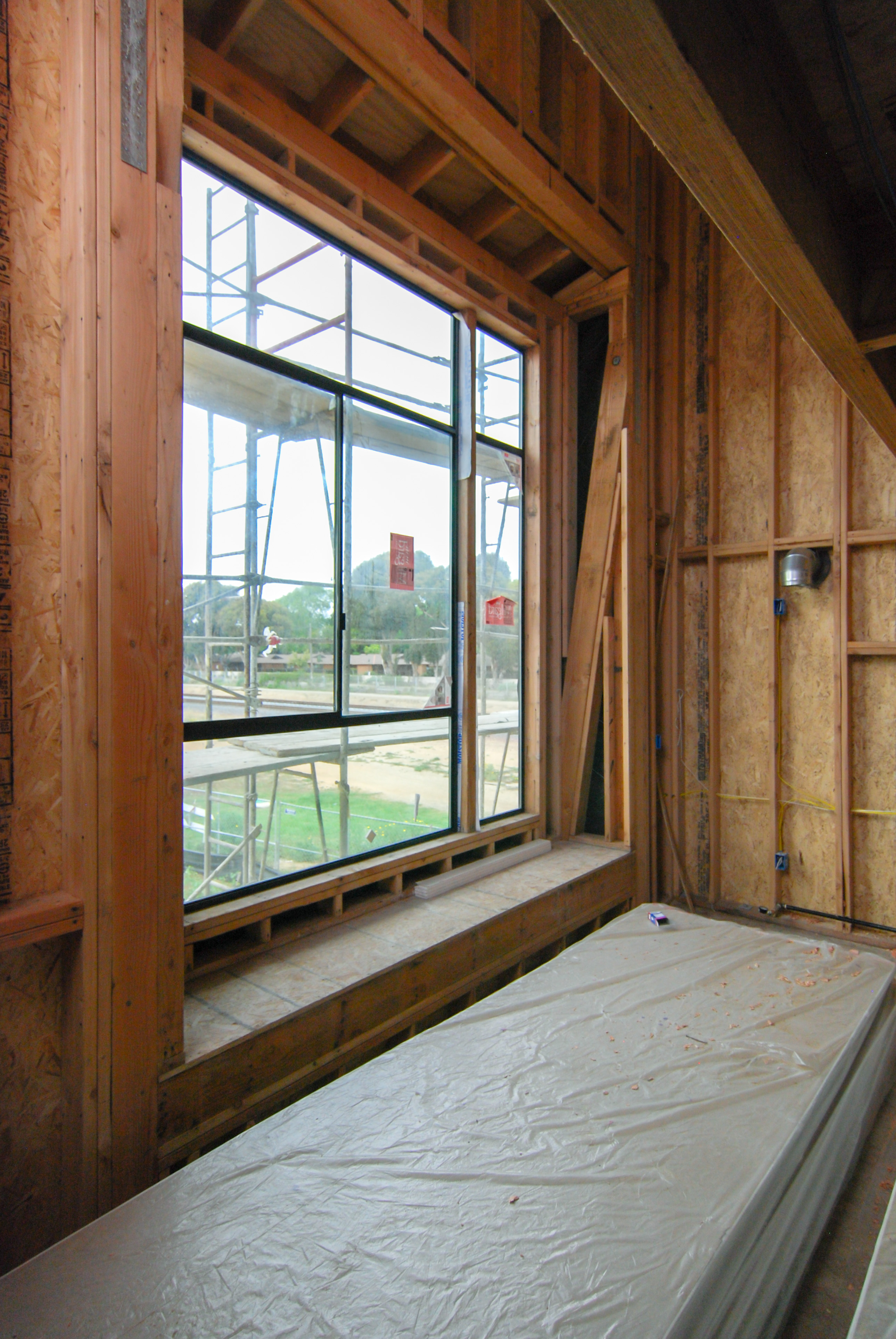 Entry Doors
Exterior swing doors throughout the project are the VistaGrande fiberglass line from Masonite. We looked at a number of different manufacturers that would have worked,  but only one was able to provide the proper documentation on their STC rating.  This was a code requirement specific to our project due to the site's proximity to the railroad tracks. From an aesthetic standpoint we would have loved to use aluminum again, but renewed search efforts confirmed them to be cost-prohibitive since only the higher-end manufacturers make the swing door configuration. Fiberglass gives us the durability we want and, since we can choose any color for the final finish, also allows these doors to provide a splash of color at the entrance to each residence.
The doors took a bit longer than the windows to install since we ended up waiting on sub-sill fabrication.  Setting the doors in a pan like this is critical to maintaining a waterproof barrier at the base of the door. A few shots of the pans below.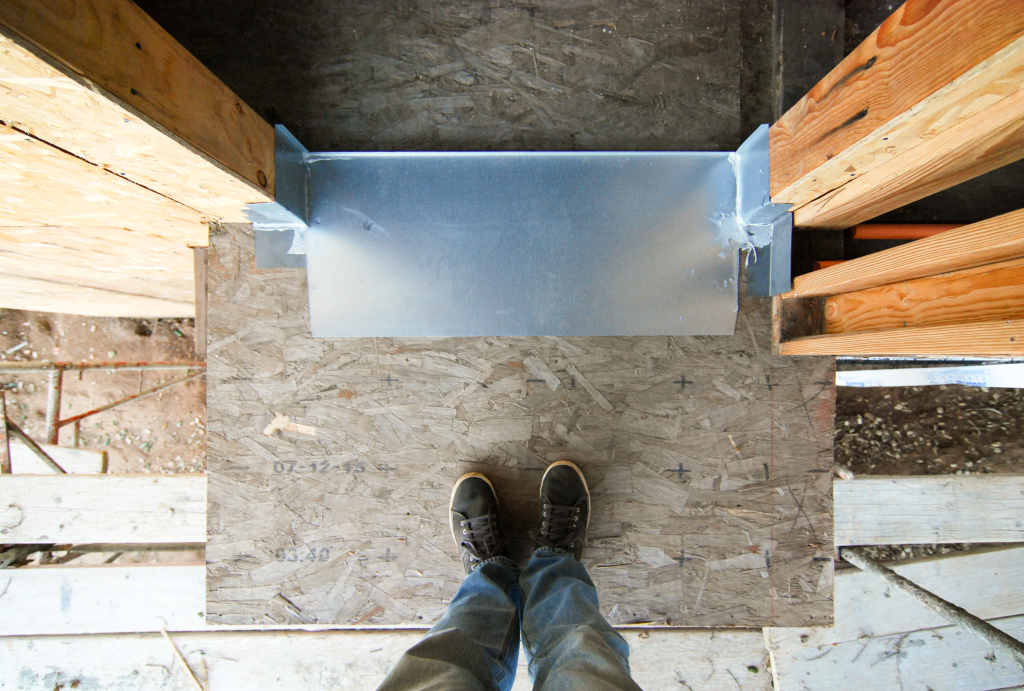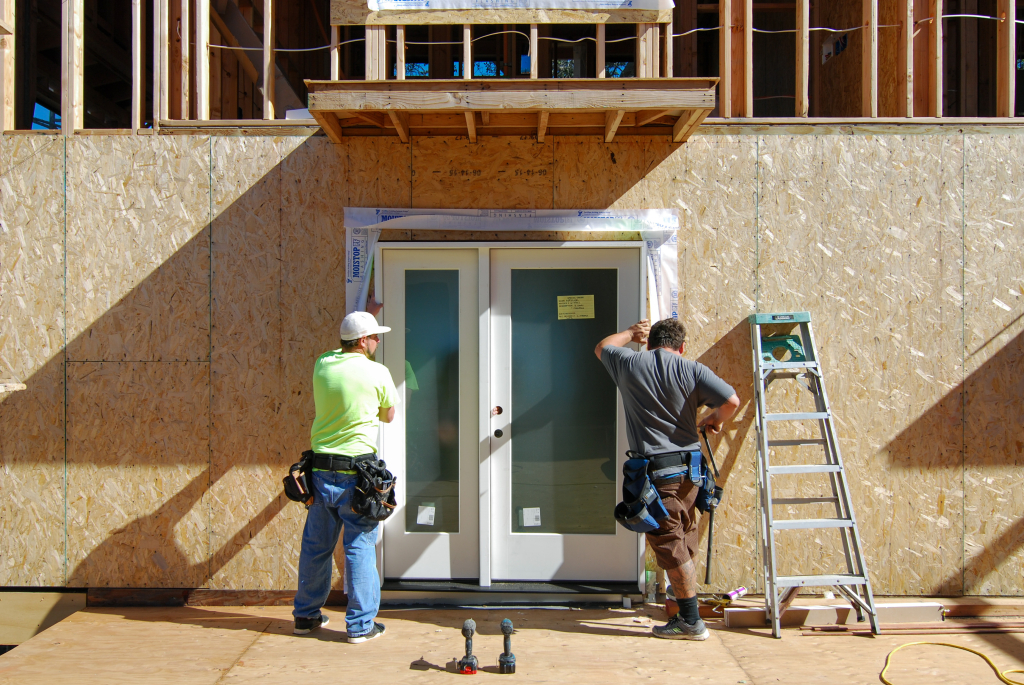 The entry door/sidelight combination at the common deck uses frosted glass in order to provide privacy while still bringing in a large amount of light.
Clear glass was used at the rear and side entries to our unit since privacy is less of a concern at those locations.
More to come shortly on M/E/P rough-in, house wrap and insulation.